By Eric Louie Contra Costa Times
The principal of Monte Vista High in Danville is on administrative leave while the school district investigates her handling of an Airsoft pistol gun in front of a student.
Rebecca Smith has been on leave since Oct. 8 while the district investigates an incident in which she "handled a gun in an inappropriate manner in the presence of a student," said San Ramon Valley school district spokesman Terry Koehne.
He said the district has determined it was an Airsoft pistol which shoots plastic pellets that generally cannot break the skin. They are available at sporting goods and other stores. The pistols, generally considered a toy, are not powerful enough for hunting.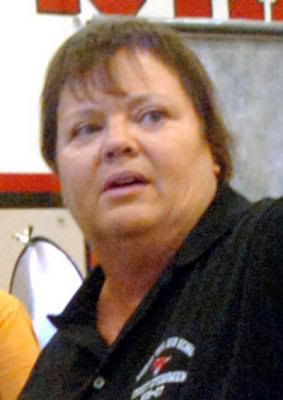 Monte Vista High School principal Rebecca Smith during Monte Vista High School's class registration day in
Danville, Calif., on Tuesday, August 22, 2006. (Doug Duran/Staff File)

Sources have told Bay Area News Group that the incident stemmed from actions before a girls volleyball game, when a player had an inflatable toy that resembled a gun. The student was called to the principal's office, which is where the incident with the Airsoft pistol took place.
Smith could not be reached for comment. Her attorney, Robert Bezemik, of Oakland, issued a statement Wednesday saying he could not say much about the incident involving the 35-year district employee.
"Because this involves the privacy interests of several participants, unfortunately we cannot publicly discuss any specifics at this time," he said. "Hopefully, common sense will prevail once she receives a fair and impartial opportunity to present her side of the story."
Koehne said the
Advertisement
district is not releasing details of the incident, but he said it happened on campus. He said the district received an anonymous tip about the incident Oct. 7, adding that Smith's leave is a routine procedure while the district investigates. He did not know how long the investigation will take.
Koehne said Smith is being paid while on leave. He did not have her exact salary, but he said principals' salaries range from $99,000 to $130,000.
Retired administrator Duff Danilovich has been brought into help run the school. He was a middle school principal and high school assistant principal in the district before his retirement.
School Board President Bill Clarkson said he could not comment, as it would be inappropriate because the case could go before the board. He said trustees have not met about the issue.
While rumors have been circulating about the incident and some parents are upset no official announcement was made, Koehne said the district was limited in what it could say because it is a personnel issue. The district e-mailed an announcement to parents Wednesday after Smith's leave was reported in local media.
Smith could not be reached for comment. She came to the school in 1981, working as an assistant principal before becoming principal in 1996, according to the school's Web site.
Her time at the school has not been without controversy. In 2007, a district audit found that nearly $100,000 raised by recent graduating classes was spent for items not approved by students. The funds were raised by each graduating class during their years at the school, with students determining where the money goes, but administrators instead transferred the cash to other accounts and decided where to spend it. Items purchased included computers, landscaping and rugs.