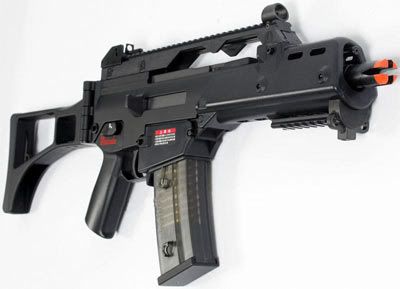 The choice for many SF Units and Counter-Terrorism Forces the world over. The Tokyo Marui G36c boasts the EG1000 motor, version 3 gearbox, folding stock and a bottom rail mount. Additional side rails can be easily added for laser and flashligh upgrades. The Tokyo Marui G36c has pin-point accuracy and packs a nasty punch. The magazines will even clamp together for lightning quick mag changes. Military forces and law enforcement in Europe and USA are currently using the real Heckler & Koch G36C. The H&K G36C is increasing in popularity and will soon be a one of the leading military & law enforcement assault rifles -such is the design and quality prowess of H&K.

So, not surprisingly Tokyo Marui has taken over the project to make G36 as electric airsoft gun. Featuring solid construction and extreme attention to detail once again, this Tokyo Marui AEG appears to maintain the high quality standards of what we have learned to see from Tokyo Marui.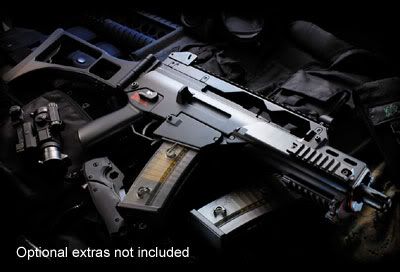 Tokyo Marui's Airsoft AEG's are the standard to which other Airsoft companies aspire. Tokyo Marui's Airsoft AEG's are characterised by their high quality ABS Plastic Bodies and Metal MechBox. These high quality parts make the Tokyo Marui Airsoft AEG's very durable and they keep shooting straight and fast under almost any punishment. These guns use rechargeable batteries and typically when unmodified, fire 0.2g BB's at around the area of 270- 305 feet per second and 0.8~1J of kinetic energy. Tokyo Marui's Airsoft AEG's are very reliable and realistic and you will not be dissappointed with your purchase. Please note, Tokyo Marui's are cast in authentic gun molds and due to customs regulations some of the guns are not allowed into the U.S. without having their original trademarks removed.
Electric Airsoft Rifles use batteries as their power source, they're usually fully automatic, and they shoot very fast. If you are looking for continuous fire fun, this is the type of Airsoft Gun for you – just hold down the trigger and watch those BB's stream out, one after the other, in a straight, swift line – which means fun and entertainment, plain and simple. This Electric Airsoft Rifle doesn't require any pumping just simply point and shoot.
Tokyo Marui G36C Features:
Tokyo Marui Airsoft AEG

Metal Components

Heavyweight

Adjustable HopUp

Highly Upgradable
Includes:
Factory Assembled Tokyo Marui G36C

Additional Flash Suppresor

Battery Charger

8.4v 600 MaH Battery
Tokyo Marui G36C Specifications:
FPS: 295

Magazine Capacity: 50

Motor: EG1000

Length: 20 inches

Weight: 6.2 pounds
See what will happen on a Tokyo Marui G36C having a Systema TURBO Motor vs
EG1000 motor
... Play on: