LAS VEGAS, NV and City of Industry, CA – January 19, 2010 – KWA launches a new professional product line and unveils twelve new models at the 2010 Shooting, Hunting, Outdoor Trade Show and Conference (SHOT show) in Las Vegas, Nevada.
The LM4 Series is a new lineup of professional training rifles designed specifically for Law Enforcement and Military applications. The new series is powered by KWA's Force Velocity gas engine and is made to simulate the recoil action of a firearm without the use of live ammunition. Every feature on the LM4 series rifle is realistic and fully functional including the forward assist button. The LM4 rifles utilizes Green Gas as a propellant and fires 6mm airsoft pellets or Identifying Marking (IDM) rounds at a velocity of 500+ FPS with an effective range of 180+ feet. Two models, the LM4 PTR and LM4 SR7, will initiate the launch with additional models as well as civilian versions coming later this year.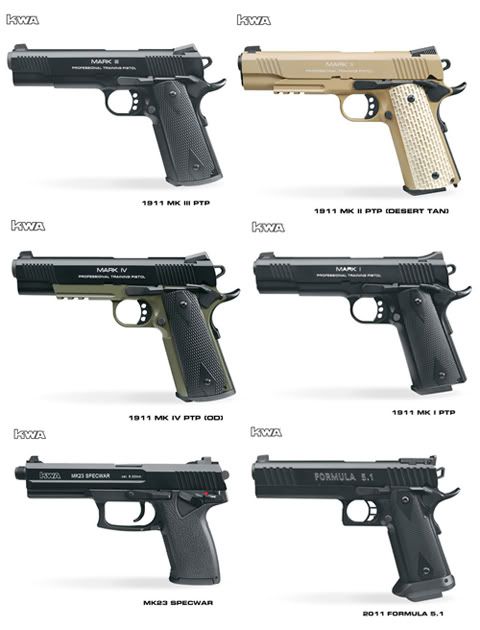 Following last year's successful launch of the MP7A1, KWA will be introducing two new SMG models, the KMP9 and KMP9R. The new SMGs share the same NS2 gas engine as the MP7A1, offering users unparalleled performance. Both models will be available in three different color variants; Black, Ranger Green, and Dark Earth.
New pistol models include the 2011 Formula 5.0, 2011 Formula 5.1, MK23 SPECWAR and four PTP models: 1911 MKI PTP, 1911 MKII PTP, 1911 MKIII PTP, and 1911 MKIV PTP. A new addition to the KM4 AEG line is the SR7 DEVGRU. Performance specifications and pricing information will be announced at a later date.




Source:

http://www.airsoftretreat.com/forums | KWA USR