Sonoma Police Chief Bret Sackett brought his guns to town Wednesday night or, to be precise, he brought them to the City Council meeting, a few steps from his office at the police station, and passed them around the room.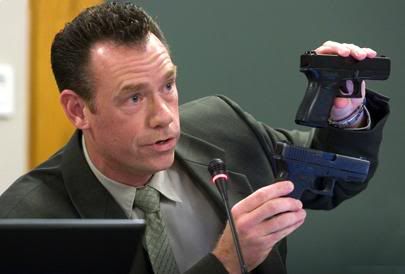 POLICE CHIEF BRET SACKETT holds up a real and fake .40 caliber Glock semi-automatic pistol.
The real pistol is in Sackett's right hand. Robbi Pengelly/Index-Tribune
Sackett had his guns to make a point, albeit not like Billy Joe, the tragic figure in the famous Johnny Cash song who defies his mother, brings his guns to town and is shot dead in a bar. Sackett was there at the request of Councilmember Joanne Sanders who read a recent news story about the police department's intention to crack down on simulated guns. The chief's guns included a 9 mm Heckler & Koch MP5 submachine gun and two .40 caliber, Model 23 Glock semi-automatic pistols, the gun chosen by the FBI as the bureau's official service weapon.


Sackett said the MP5 was the same assault weapon he used as a member of the Sheriff's Department's SWAT Team, the only difference being that the one circulating through the audience fired plastic "AirSoft" BBs instead of bullets. And of the two Glocks he held up to display, one was an AirSoft pistol and one was his own, unloaded, service pistol. The two looked identical, the AirSoft version even having a functional slide and clip release like the real thing.


Sacket told the council that in one survey of law enforcement officers, 14 out of 40 failed to recognize under close examination that an AirSoft gun wasn't the real thing.


Their close resemblance to real weapons poses a clear dilemma for law enforcement officers who have encountered AirSoft weapons on the street and, in the case of a Florida student, responded with deadly consequences. That young man was brandishing an AirSoft gun with the mandatory orange tip painted black and was shot and killed by police.

*

In Sonoma in November, police arrested an El Verano man in a fast food restaurant who brandished an AirSoft gun at a customer, demanding food.


Typical muzzle velocities for AirSoft pistols can exceed 450 feet a second, approaching or even exceeding the speed of real small-caliber ammunition like the .22 short pistol cartridge.


Sackett shared a quote from a children's center in Dayton, Ohio, that children have been treated with AirSoft BBs "in the lung, liver, heart, brain and eye."


He explained that a number of state and city laws forbid the discharge of the guns inside city limits within 500 feet of a home, and that even brandishing one of the guns in a threatening manner is a misdemeanor punishable with a jail term of not less than 30 days.


Source: David Bolling (INDEX-TRIBUNE EDITOR) | Sonomanews.com