AirSoft Spring Air Guns are styled after some of the world's most famous firearms. Spring Air Powered are true to scale and easy to operate. How they work...Pull back the slide (just like the real firearm they are modeled after) to charge the firing mechanism...Aim and fire. Spring Air models must be manually cocked each and every shot. Because of their maintenance free design and affordability these are excellent entry level AirSoft guns for the hobby and recreational enthusiast.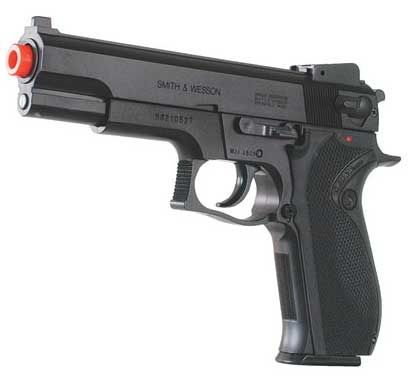 In the 1850s Horace Smith and Daniel Wesson started a revolution in firearms with their autonomous metal cartridge. After only 20 years Smith and Wesson became the top hand gun manufacturers in the world. Today American tradition and Asian experience , make the air soft guns by Smith and Wesson equal in relaibility and accuracy to any air soft guns manufactured in the world.
Smith and Wesson M4505 Black Airsoft pistol
Realistic looking BB gun with accurate, single shot firing. Shoots up to 302 fps with no spin up mechanism. Use with either .12g or .20g, 6mm pellets.
Fully licensed trademarks
Finely detailed trademarks on slide and grips
Distributed by: Cybergun (Soft Air USA)
Specifications:
Firing system: High power pump
Weight: 1.2 lbs
Magazine Capacity: 12 rds
Length: 8.5 in
Scale: 1/1
Caliber: 6mm
Class: Classic Softair
Mode: Single shot - Spring action pistol
Material: Anti-shock ABS - Metal parts
Works best with: 0.20g BBs
Velocity: 300