By Matthew Graham (The Clackamas Review,
Oct 2, 2009
)

St. John's Catholic School was locked down Friday and people fled an area of downtown Milwaukie when a 15-year-old reportedly began threatening other residents with what appeared to be a firearm.
According to Milwaukie Police Department spokesman Officer Kevin Krebs, police were called to the intersection of 25th and Washington streets in downtown Milwaukie around 12:15 p.m. on Friday after citizens wrestled the threatening suspect to the ground, disarmed him and he fled.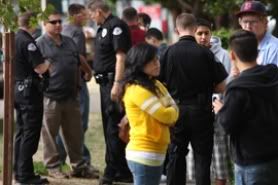 Jaime Valdez / Pamplin Media Group
Milwaukie High School students and witness give their testimony to Milwaukie policemen
about a man walking around with an airsoft weapon around the school.
"It was reported that some citizens had wrestled this subject to the ground, had taken the gun from him and he was last seen running from the area," Krebs said. "Officers arrived on the scene and after a brief foot pursuit caught up with the subject. He was taken into custody without incident."
Krebs said what witnesses thought was a gun was actually an Airsoft gun. Airsoft guns are typically highly detailed replicas of actual guns but which shoot non-metallic pellets. The pellets velocity ranges from 100 feet per second to 850 feet per second.
"It's becoming an increasing problem," Krebs said. "The Airsoft guns, however harmless they may be, they have an appearance that mimics and models real guns. And obviously without very close examination, you cannot tell the diff between an Airsoft gun and a real gun … Here we have an individual on the corner, kiddy corner to two schools, the potential obviously is grave … The results could have been disastrous."
Krebs said the suspect was taken into custody and was being questioned Friday. He said charges will likely be filed, and that the charges for threatening someone with an Airsoft gun are the same as those for threatening someone with a lethal firearm.
Source:
The Clackamas Review