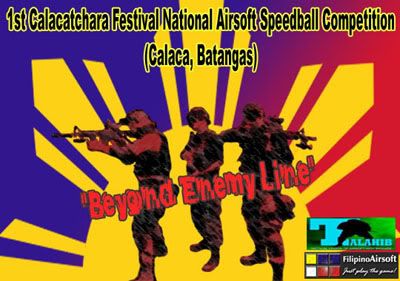 Organized By:
BRENWIN Co.
In Cooperation With:
TEAM TALAHIB
(TActical Legion of Airsoft HIgh Brigade) and TEAM TRIAD
October 17-18, 2009
10 Man Team Speedball Airsoft Competition
450fps Limit @ .20g BBs
Registration Fee
P5,000.00/ Team
PRIZES:
Champion: P30,000.00 + Team Trophy + Individual Medal
1st: P20,000.00 + Team Trophy
2nd: P10,000.00 + Team Trophy
3rd: P5,000.00 + Team Trophy
Other team: Certificate of Participation
Special Awards
Best In Uniform
Friendly Team
Fastest Team (Goal)
Best in Maneuver
Most Discipline Team
LOCATION: BIPC Compound Lumbang Kalsada Calaca, Batangas
Speedball Rules and Regulations
• No chrono, No play!
• 450 FPS limit @ 0.20g
• Hardheads & trash talkers will be penalized
• Real guns & bladed weapons are not allowed inside the playing area
• Players must wear proper protective gear before playing
• No hit calling amongst players
• Marshal's decision is final
• No coaching amongst hit players
*** other rules and regulation will be discuss on the TEAM LEADERS Meeting ***
Point System
• Player Hit : 5 points
• Capture Flag : 20 points
• Goal finished : 30 points
** Total 100 points **
*** Violation Point Deduction will be discuss on the TEAM LEADERS Meeting ***
For Inquiries Please Call/Text:
0907.200.5500 - Gary (Brenwin Co.)
or
0919.405.7021 - Matador
0916.212.5031 - Supercop
0916.340.1790 - Kalembong of Team TALAHIB
FOR UPDATES AND OTHER INFO, CLICK
HERE
.