I was searching a cheaper gun on the internet, and i found this Spring G3 Rifle FPS-340 with Laser and Flashing Lights. It's only $19.50, approximately Php936.oo. Wow, this is cheap, right? Please keep reading for some description...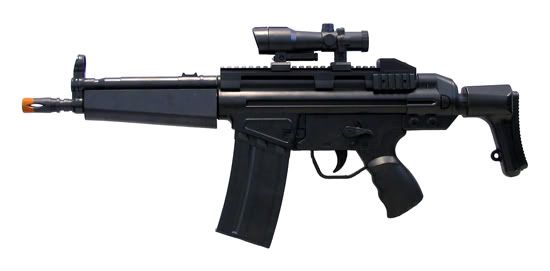 Introducing the Spring G3 Rifle Airsoft Gun. This Fantastic airsoft gun is spring powered and is made out of sturdy plastic so you don't have to worry about it breaking so easily. The G3 comes with everything you need to get started including faux scope with flashing green and blue lights, gun strap, safety glasses, and a sample bag of BBs. The G3 features R.I.S. so you can customize the gun to your liking with any attachment. So what are you waiting for? Get yours today and join the action!
This is a Spring Airsoft Rifle, which means it's powered by a spring and must be cocked for each shot. It's fast, clean, inexpensive and easily maintained; it requires no gas or batteries to operate. Also, Spring Airsoft Guns are the toughest, most durable of all Airsoft Guns, because they're made with few breakable pieces. If you're looking for a fun, reliable Airsoft Rifle that'll look great and perform even better, you've come to the right place. You must be 18 years of age or older to purchase this Airsoft gun.
Features:
* Spring Powered
* Plastic Construction
* R.I.S.
* Flashing Lights
* Faux Scope
* Detachable Stock
* Working Safety
Includes:
* Spring G3 Rifle Airsoft Gun
* Faux Scope/Flashing Lights
* Gun Strap
* Safety Glasses
* Sample Bag of BBs
Specifications:
* FPS: 340
* Magazine Capacity: 300
* Size: 27 Inches
You can visit for the actual price:
http://www.hobbytron.com